This Post May Contain Affiliate Links
In compliance with the FTC guidelines, please assume that some of the links on these posts and site are affiliate links (Amazon or others) from which I receive a small compensation from sales of certain items.
As an Amazon Associate, I earn from qualifying purchases.
Anytime you see a link that looks like "astore.com, paid link, #ad, #CommissionsEarned or amazon.com,"… it can be assumed that it is an Amazon affiliate link.
Learn more
What Are Super Strat Guitars?
A Super Strat is an umbrella term loosely used to describe a wide array of electric guitars conceptualized in the '80s resembling the Fender Stratocaster but with its own distinctive characteristics and differences that clearly separate and distinguish it from the famed instrument.
Basically, a Fender injected with "Enhancements," and this article will define the "Super Strat" as any Strat-style electric guitar modified beyond the original design specifications.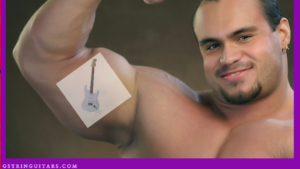 What's In The Name
The term 'Strat" is now what "Cola" is to pop.
While Strat & Stratocaster is the name of the Fender, the term 'Strat" is now used to label any guitar resembling the original iconic instrument, with no issues by the original manufacturers.
Lawsuits were levied against guitar makers having Strat-styled body shapes as long as "Certain design features were changed."
Inspiration For The Super Strat
Let's Look At The Original That Started It All And What Made It Special
With many guitar brands contributing to the Super Strat movement's success, this would not have been possible without the original iconic design.
The Fender Stratocaster is a double cutaway body shape with a top horn extended for balance; designed in 1954 to present by Leo Fender and his team of Bill Carson, George Fullerton and Freddie Tavares, that went on to become the most inspired guitar shape and industry standard.
(See image)
Strat Stats
The instrument sported a 3 single-coil pickup configuration with one volume, 2-tone controls and a 3-way pickup selector that was eventually upgraded to a 5-way switch.
The neck was a bolt-on w/21 frets on a 25.5-inch scale and a 7.25 radius fingerboard, along with 6 inline non-locking tuners and a floating spring tension vibrato system and arm integrated into the bridge. The platform construction was also made for easy modding.
Made To Suit The Player & Mod Friendly
The Stratocaster is perfect by design, with comfortable bodies and necks with great tone. Still, the 3 single-coil pickup designs are limited, and the synchronized tremolo systems were challenging to keep in tune.
The ability and ease with which the Fender Stratocaster could be modified, with its easily removable parts, made players and luthiers perform numerous modifications, changing pickups or necks to fit the end-user's needs.
Early Artists Pushed The Limits Of The Stratocaster
Stratocaster players like Uli Jon Roth started to modify their guitars to better suit their heavier sounds.
Deep Purples Richie Blackmore, who was one of the first to start building on the Super Strat characteristics, was dissatisfied with the performance of the original stock model commercial guitars and created a hybrid instrument with Scalloped fingerboards and dual humbuckers as early as 1974.
Artists like Yngwie Malmsteen, an avid Fender Strat brand champion, stayed with the classic platform and used it as his mainstay instrument from the 80s to the present day, but also made modifications.
To Check Out What Made The Yngwie Malmsteen Strat So Special Tap Here
Despite having a successful design for decades, going into the 80s Fender was not having much luck accommodating the needs of the shredder and metal players.
Read on as we look at the…
Evolution Of The Super Strat
Pioneer Eddie Van Halen, an avid guitar tinkerer took the concept further in 1977, accessing aftermarket and spare parts from different manufacturers (i.e. Boogie, Charvel and Kramer) to assemble his own versions of a strat-style guitar which he called Frankenstrat.
(See Image below)
Creating A Template
He routed the Strat-style body to fit a Gibson PAF humbucking (culled from a Gibson EA-335) and mounted the pickup in the bridge position.
He also installed an unfinished 21-fret maple neck that was wider and flatter than a standard Stratocaster neck profile.
The aim was to take the classic thicker tone of a Gibson and meld it together with a Stratocaster's playability, functionality and feel to become the Van Halen Brown Sound.
Edward later upgraded the guitar's vintage-style Synchronized Tremolo and incorporated one of the first Floyd Rose System double-locking models.
Many believe it was the first guitar with Super Strat features, arguably creating the first template and motivation for future Super Strats, making Eddie Van Halen the pioneer prototypical amateur guitar modifier and inspiration for the legions of instruments to follow.
He launched a musical revolution with his band's 1978 debut album. He reshaped the guitar-making industry, and for the first time, smaller companies allowed the new shredders and home tinkerers to arm themselves with their own individualized humbucker-loaded, Floyd Rose–equipped electric guitars.
Floyd Rose Locking Tremolo System
Invented in 1977 by American musician and engineer Floyd Rose, his double-locking Tremolo's system could replace the standard bridges and allow for constant vibrato arm use without the detuning issues.
Floyd Rose found that to achieve precise tuning stability while using a whammy arm was to lock the strings at the neck and bridge positions, resulting in the string no longer slipping at the bridge's nut or saddle creating worry-free arm use and dynamic pitch effects up or down.
This allowed a new tool for the guitar player to master.
Adopted first by Kramer, Van Halen and Rose worked together on many of the system's refinements, resulting in a tool that has remained relatively unchanged and unchallenged since the mid–1980s.
His design was later recognized in Guitar World's "10 Most Earth Shaking Guitar Innovations."
Understand Why Super Strats Even Exist
As the rock and guitars scene changed, players started to see the value in the Frankenstrat-inspired instruments in getting a sound that could no longer be had by the traditional Fender Stratocaster or Gibson Les Pauls previously made famous by earlier generations of Guitar Gods.
Electric guitar technology has far advanced since the 1950s and 60s when Gibson and Fender tried to outdo each other in marketing and getting the first real electric guitars into the hands of the public.
The new wave of players had different demands and needed engineering advances to accommodate the latest playing styles.
Players Were Not Happy
The major brands in the '70-'80s lost touch with their audience largely due to corporate mismanagement, prioritizing cost-cutting over quality and not keeping up with the changes in the marketplace, like the 3-bolt Fender design, which led to neck shifting and playability issues.
Smaller guitar manufacturers building parts to serve the major brands started offering custom shop replacement parts with features like…
Lighter wood bodies
Floyd Rose and Schaller Tremolos &
Hot Humbucking pickups 
With the boom of companies building replacement pickups in the 1970s and 1980s, including Dimarzio, Seymour Duncan, and Schecter, the home modder had more options for cultivating a signature sound and the concept of having a more individualized instrument was at their fingertips.
The Ideas & Market Started To Blow Up
Soon, Guitarists would reach out to luthiers and manufacturers wanting custom modifications, primarily thanks to the lacklustre guitars built by the big manufacturers.
With the growing market demand between 1983-1984, most smaller guitar manufacturers started mass production of the Super Strat guitar designs and would have at least one model in their lineup.
New-Gen Of Shredders
With the hard rock scene blowing up in the 80s, the new guitarist were getting a lot of attention.
Guitar gods reigned supreme, and the weapon of choice was the Super Strat, created to suit the needs of the blazing-fast flashy guitar players front and center of the music at the time.
Virtuoso's like…
Brand Champions
With their cutting-edge signature instruments, these forward-thinking guitarists helped propel the Super Strat to an even higher level. Their exceptional talents made aspiring guitarists emulate their playing styles and own a version of the new instrument. Top new companies like Jackson, Charvel, Ibanez and Kramer experienced mass commercial success.
The Anatomy Of A Super Strat
What you find on a Super Strat is a more aggressive body & neck shape, with the body design sporting pointier deeper horn cutaways, a contoured heel to get easier access to the higher fretboard regions, more frets, locking vibrato systems, humbucking pickups in different configurations, no pickguards, adventurous finishes and more.
(See image)
Despite the 'Wild West" SuperStrat fever of the 80s with different manufacturers having a lot of different designs and features, some common traits did emerge generating a "Standard" outside of the Humbuckers, fast Neck and locking tremolos.
(Read on)
Heavy Tonewoods
Pros
The advent of higher–gain amps, preamps, rack effects, and new pedal designs needed a more focused and direct guitar sound, and the heavier wood guitars like Mahogany and Basswood helped create a more uniform tone.
Mahogany is a super-tough wood that feels high quality and sounds great giving your guitar a warm sound and deep bassy feel that metal players desire and is used in high-end models.
Like Mahogany, Basswood bodies offer similar build quality and tone and are also used in many high-end guitar builds.
Cons
Weight also plays a factor in playability. Mahogany guitars for instance, sound great, but they tend to be on the heavier side, and a heavy guitar can become cumbersome.
Light Tonewoods
Pros & Cons
On the other end of the spectrum, some mod–obsessed players wanted to go as light as possible and turned to Poplar and Agathis, 2 kinds of wood now commonly used in guitar manufacturing.
Poplar, similar to Alder is lightweight, affordable, and easy to work with but not high on the tonewood for sustainable properties and used on budget to mid-line guitars with exceptions like the Ernie Ball Music Man Steve Morse Signature Guitar. 
Agathis, also known as Kauri or Dammar, is affordable, sturdy, and similar to Mahogany giving great sustain, but is often described as the "Poor Mans Mahogany" and commonly used for budget-to mid-line guitars, again with exceptions.
Fast Necks
A Fast neck is a guitar set up to make it easier to play quicker, with necks that are thin and flat-shaped to improve fret access, along with low action and larger frets.
The flatter profile allowed better finger travel and control, leading to better accuracy and volume of notes picked and fingered.
Playability
No matter what guitar style you play, playability means comfort and quickness; Super Strats look to match players' new expectations for speed and accuracy. A slim neck allows easy wrapping of your hand up and down the fingerboard.
The 3 factors involved in creating perfect necks for speed and accuracy are…
Thinner and Wider Profiles
Compound Radius Fretboards
Neck-Through Construction
Thinner & Wider Profiles
With Strats and Les Pauls not known for their thin necks, to play to speed, necks needed to be Flat, Broad, Unfinished or Heavily lacquered, solely on the player's preference.
Players were seeking better playability, so luthiers strayed away from the traditional C or V-shaped neck profiles, and necks began to become D-shaped, thinner and wider.
Wizard Profile
With advances in woodworking technology, companies like Ibanez took thin necks to the next level, making some of the slimmest profile necks in the world and inventing a new internal truss rod to maintain structural integrity, resulting in the successful Ibanez Wizard-profile necks, which were designed in the late '80s and are still to this day some of the fastest and thinnest guitar necks around.
Charvel and its eventual offshoot Jackson Guitars, on the other hand, pioneered compound-radius necks, allowing the fretboard to become broader and flatter as the player reached the upper frets.
Compound-Radius
Contributing to a 'Fast Neck" definition, luthier Denny Rauen started "multi-radiating" fingerboards in 1978 with other manufacturers following suit.
Multi-radiating refers to the curvature of the fretboard when the curvature, not the back of the neck, changes as you get up to the higher frets with a continuously flattening shape.
A compound radius neck has a smaller (rounder) radius at the string nut (i.e. a 7.5-inch "vintage Fender" radius) commonly used for rhythm and chording and a larger (flatter) radius at the higher fretboard and body joint (i.e. a 12-inch "Gibson" radius at the highest fret) designed to improve string bending and lead playing.
How To Choose The Right Guitar Neck Shape
Neck-Through Construction
With the original generation of Super Strats being almost exclusively classic 4-bolt neck plate construction, another new innovation occurred with Ibanez's adoption of the Neck-through construction with Grover Jackson following suit.
Neck–through construction, is made from one continuous piece of wood, with no separation in the junction between the neck and the body.
(See image)
This design allows for increased resonance and depth of tonal quality, along with maximum sustain and playability.
Shredders were no longer impeded by a bulky heel of a traditional bolt–on or set-neck guitar, making access to the higher frets effortless.
Pros
Look and Feel Slick and Clean
Maximum Tonal Resonance and Sustain
Easily played in the higher fret registers
Cons
If the neck gets damaged, it is impossible to replace, so you need to purchase an entirely new instrument.
It is the most expensive of the 3 types of neck construction and takes significant experience and skill to manufacture.
Unlike the bolt-on, you cannot mix and match fretboards.
Power Stations
Humbuckers With Different Configurations
The pickups have come a long way since the 50s, with the original vintage being twangy and noisy.
Humbuckers provide a thicker grittier sound, something a single coil pickup couldn't do at the time Super Strats came out.
Usually, the humbucker is placed in the bridge position in a three-pickup configuration. The humbucker in the bridge position gives you the brightest tone, so you can use it to cut through the mix, and it tends to have more output than single coil pickups.
There technically isn't a right or wrong pickup configuration for Super Strats, but there are certainly some trends from the guitar makers today.
(See Image)
Versatility
This setup offers versatility with pickup switches that allow you to activate different combinations; modern guitars can have options (even coil splitting) to change your pickups with a button or a knob. Your sound can go from a vintage Strat single coil to amazingly modern humbucker tones without changing gear.
Hardware
Bridge & Nut
With tremolos and double-locking tuners, the higher-quality bridge & nut hardware helps with intonation, reliability, and stable tuning.
(See images below)
How To Change Strings On A Floyd Rose Double Locking Tremolo
Added Features
24 Frets
Unlike Fender Stratocasters, Super Strats will feature 24 frets allowing players to hit higher notes. Frets also have improved being wider, taller, jumbo, and easier to play on. Further improvements in stainless steel ensure the frets never wear out, and Premium Fret Edge Treatment offers a super smooth comfortable performance.
The Input jack 
The input jack has been moved from the traditional Fender Strat location to the edge or bottom of the guitar for less hassle.
(See image)
No Pickguards
Benefits
This may not affect most players, but if you need a repair or pickup replacement, you can expect to pay more labour as it's much more work to remove the entire electronics and pickguard on a Strat than working on other guitars without that design.
(See image)
Final Thoughts
Super Strat style guitars are not for everyone; they are built for speed, precision, high performance and specific types of playing, but are versatile and full of features and personality, and you can find one that has the characteristics that suit you.
Should You Add One To Your Collection
Absolutely Yes!
This type of guitar will be here to stay, and no matter how many electric guitars you own, your collection won't be complete without at least one Super Strat.
Did You Like This Article?
Want to learn more about a Guitar String Dampener? Check out the article.
Also…
Please leave your comments in the section below, and if you have a favourite player or guitar you would like me to review, leave me a note below.
As always, stay the course and keep playing.
Image of Nuno Bettencourt Courtesy of Wikimedia, Author Sezzles and  is licensed under the CC Attribution-Share Alike 2.0 Generic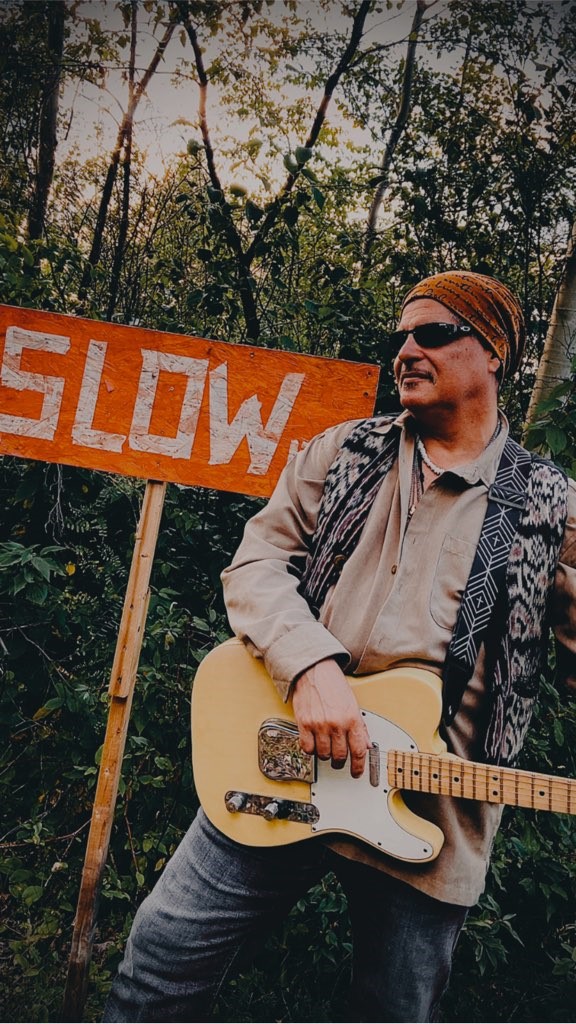 Starting A Journey At 7 Years Of Age, The Love For The Guitar Only Became Stronger Going Into My Teens. This Leading To An Exciting Time Of Teaching, Performing, And Recording. Join Me Now As We Can Bring The Love Of This Instrument To Other Musicians Globally.