This Post May Contain Affiliate Links
In compliance with the FTC guidelines, please assume that some of the links on these posts and site are affiliate links (Amazon or others) from which I receive a small compensation from sales of certain items.
As an Amazon Associate, I earn from qualifying purchases.
Anytime you see a link that looks like "astore.com, paid link, #ad, #CommissionsEarned or amazon.com,"… it can be assumed that it is an Amazon affiliate link.
Learn more
The Edmonton Guitar Show For 2023
Starting in 2015 and due to its popularity, this annual Guitar buy-sell event is a place where vendors, collectors, builders, and enthusiasts meet to showcase new/used stringed instruments, amplifiers, pedals and accessories.
The show also has its fair share of presentations, education, demonstrations, new guitar makers/luthiers, and tonewood providers offering various models and materials.
Read on as we share some of our highlights from the show.
Custom/Vintage Guitars
First, walking through the show, you will see what one expects: Used custom/vintage Fenders & Gibsons designed for targeting collectors and players alike. (See Image)
Moving through the halls, we came across…
Signature Models
Artist-inspired guitars like the…
Zakk Wylde Audio Model – with Mahogany body, Maple neck, Black hardware, Rosewood Fingerboard, 22 frets, ABR-1 bridge and EMG Pickups.
Yngwie Malmsteen – MIA Fender Strat with scalloped Maple neck, YMG Fury pickups and oversized headstock.
The 1977 Steve Miller Ibanez 2622 MIJ Artist model- with an Ebony Fingerboard, Pearl/abalone block inlays, and a violin sunburst finish. (See image)
Some of the unexpected "Jems" of the show were the…
Duesenberg Guitars
Company History
Founded in 1986 and located in Hannover Germany, this company produces electric guitars, basses, amplifiers and effects pedals.
The general production of the instruments is in Croatia, with the final setup and assembly done in Germany, following up with a branch in Fullerton, California in 2004.
These guitars are known for their classic and distinctive Art Deco Designs, attracting top names to their brand like Johnny Depp.
The one that stood out for us was the…
Alliance Series James Bond 007 Signed/Numbered David Arnold Edition
Inspired and co-created by Duesenberg and David Arnold (a 5-time 007 composer), this James Bond guitar was first played live by the co-creator for the "Sound of 007" concert in October 2022. (See Image)
Limited to a run of 75, the guitar is individually numbered, handmade, and personally signed by Arnold.
Another interesting find was the…
Cigar Box Guitars
Handcrafted by Winston & Fidel
After a chat with owner and builder Mark Kost, he explained the origins of the Cigar box guitar and how they came to be; immediately, I was interested.
His talent has taken him to build instruments for the likes of Jesse Cook, so why build Cigar Box guitars?
(Read on)
Early Days
This Calgary Company, with a name inspired by well-known cigar-smoking figures in history, Winston Churchill and Fidel Castro, is making cigar box guitars in 3 and 4-string configurations with standard 25.5″ scale lengths, 21 frets, pickups, control knobs, Mother of Pearl markers, Oak fretboard, Chrome or Gold coloured tuners, and Oak & Steel Bridge appointments, this is not your ordinary Cigar Box instrument.
Created from recycled stock, what started as a few-day project and a one-off model has become a passion. (See Image)
History
This simple stringed musical instrument produces sound from vibrating strings on an empty cigar box as resonators.
In the 1800s, Cigars were originally packed in boxes, crates, or barrels as much as 100 per case.
After 1840, manufacturers provided smaller, more portable boxes of 20-50 cigars.
First Instruments
From this more individual-size packaging, the original cigar box instruments started in the Civil War with Soldiers making handmade models with strings connected to the end of a broomstick or an 1×2 inch wood slat added to a resonator.
These soldiers would make fiddles, banjos and guitars using the same concept, with the earliest models having 1 or 2 strings; and more modern instruments typically having 3 or more.
First Exposure
The first exposure of cigar box instruments goes back from the 1840s to the 1860s, found in illustrations copyrighted in 1876 from the Frank Leslies Illustrated Newspaper.
One of the illustrations by artist Edwin Forbes displayed two American Union Army Civil War soldiers playing a cigar box fiddle, showing the brand "Figaro." (See Image)
Edwin Austin Forbes (born 1839 – March 6, 1895) was an American landscape painter and etcher who first gained fame during the American Civil War for his detailed and dramatic sketches of military subjects, including battlefield combat scenes.-Wikipedia
Early Models Were "Well Built"
The Cigar Box Museum curator and author William Jehle acquired 2 cigar box fiddles built in 1886 and 1889.
He was surprised to see that earlier string instruments were very playable and well-built, with the 1889 Fiddle having a well-carved neck and slotted violin headstock made for serious playing.
The Cigar Box Guitar Museum –is a free displaying company dedicated to cigar box guitars and is located in Speal's Tavern, a small blues club in New Alexandria, Pennsylvania, and contains over 60 antique and modern cigar box guitars.-Wikipedia
Rise Of The Cigar Box Blues
Most early players lived in poverty and, along with the Great Depression of the 1930s, could not afford "Real" guitars, so instead opted to use homemade cigar box instruments to play blues,
Modern Guitars
With the modern revival gathering momentum and an increase of cigar box guitar builders and performers growing,  local luthiers are adding these guitars to their items for sale and implementing various personal touches such as pickups and resonator cones. (See Image)
To See More Cigar Box Models From Winston & Fidel Tap Here
Guitar Clinics
Matty McKay, An Alberta Music Success Story
The Guitar Clinic for the day was topped up with 5 Time CCMA Guitarist of the Year Matty McKay.
Spending almost two decades in the Canadian music scene and having performed on such stages as the Grand Olde Opry and Canadian Country Music Awards, he has been inducted into the CCMA Musician Hall of Honors, along with performing and winning a JUNO for Country Album of the Year in 2019.
He was there to perform, talk Guitar, discuss his career, touring, music production, take questions, offer tips and tricks and share experiences as a pro from his years on the road.
Multi-Talented
He is a multi-instrumentalist and vocalist; while continuing to tour his focus has started shifting to the studio, where he has found a passion for music production, engineering, and mixing.
Guitar
Being a Telecaster Player for many years, PRS has recently made him a Telecaster-style Model which he showcased for the show.
Check out Matty playing in the video below.
Video Highlights
Wrap Up
Hosted regularly at the Italian Culture Center. Being in this building brought back some beautiful memories; this is where I grew up performing and cutting my teeth onstage.
So, outside of being surrounded by guitar vendors and enthusiasts, it was a real trip down memory lane.
What's so good about these shows is that you find pieces of information and talk with other enthusiasts or professionals on almost everything Guitar, which is never a wasted effort.
Some Honorable Mentions
I was able to get my hands on…
Did You Like This Article?
Check out our post on the Slash Gibson Firebird
Also…
Please leave your comments in the section below, and if you have a favourite player or Guitar you would like us to review, leave a note below.
Stay the course, keep playing, and see you in a few weeks.
Feature image of guitar courtesy of  PIRO from Pixabay
More minor guitar images courtesy of the Edmonton Guitar Show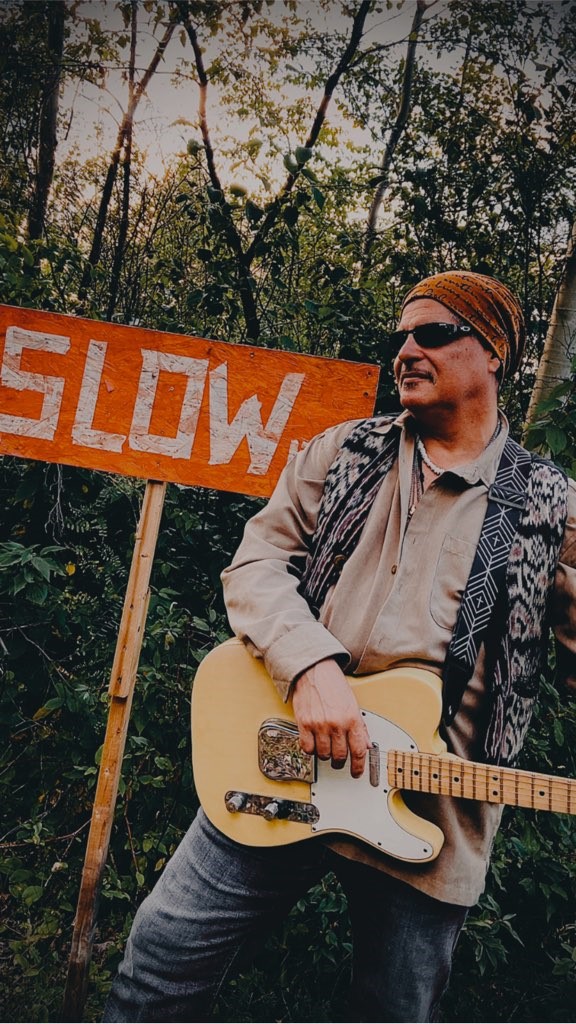 Starting A Journey At 7 Years Of Age, The Love For The Guitar Only Became Stronger Going Into My Teens. This Leading To An Exciting Time Of Teaching, Performing, And Recording. Join Me Now As We Can Bring The Love Of This Instrument To Other Musicians Globally.